Biotest AG has invested around EUR 300 million at the Dreieich site and will more than double its production capacity with the expansion. As general planner, VTU Engineering was responsible for the overall planning and execution of the project.
Biotest is a global supplier of plasma protein products and is one of the leading suppliers of polyspecific immunoglobulins and plasma-based factor preparations. The pharmaceutical company develops, produces and markets drugs for the treatment of blood and immune diseases with around 1,800 employees worldwide. The headquarters and production site are located in Dreieich, south of Frankfurt. Biotest processes up to 1.4 million liters of blood plasma per year together with contract partners.
Biotest Next Level
With the "Biotest Next Level" investment program, Biotest will more than double the Biotest Group's production capacity at the Dreieich site. In addition to the construction of a basic plasma fractionation system with a throughput of 1.4 million liters, bulk production facilities for albumin, for the new fibrinogen and IgM concentrate product lines and for the next generation of polyvalent immunoglobulin G were also built. The commissioning and qualification measures of the various external trades will be completed by the end of 2019. Around 300 new jobs will be created as a result of the expansion.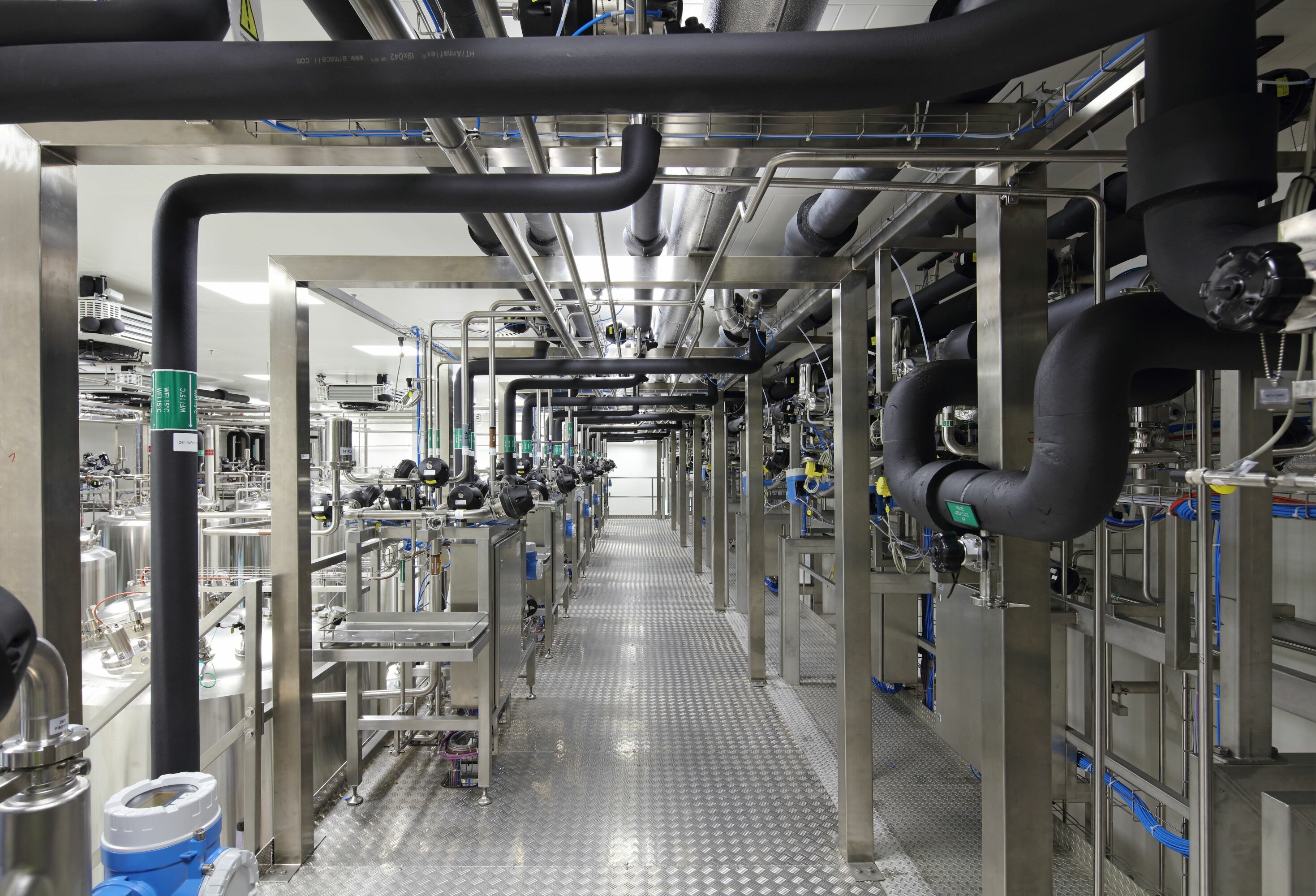 From basic engineering to commissioning
VTU Engineering was commissioned as general planner (EPCM) for the overall planning of the production plant including approval planning (building application & BImSch application). The expansion of the plant for blood plasma fractionation and purification comprises the construction of a production building including process facilities as well as plasma storage, energy and media supply, laboratories, waste water treatment, logistics facilities and infrastructure.
VTU's scope of services includes project management, process technology, ultra pure and black media, architecture and object planning, structural and clean room planning, outdoor and traffic facilities, all technical building services, laboratory, fire protection, GMP compliance as well as construction management and monitoring. From basic engineering to site supervision and commissioning, all project phases have been covered.
In the process / utility area, the scope of planning includes the following areas: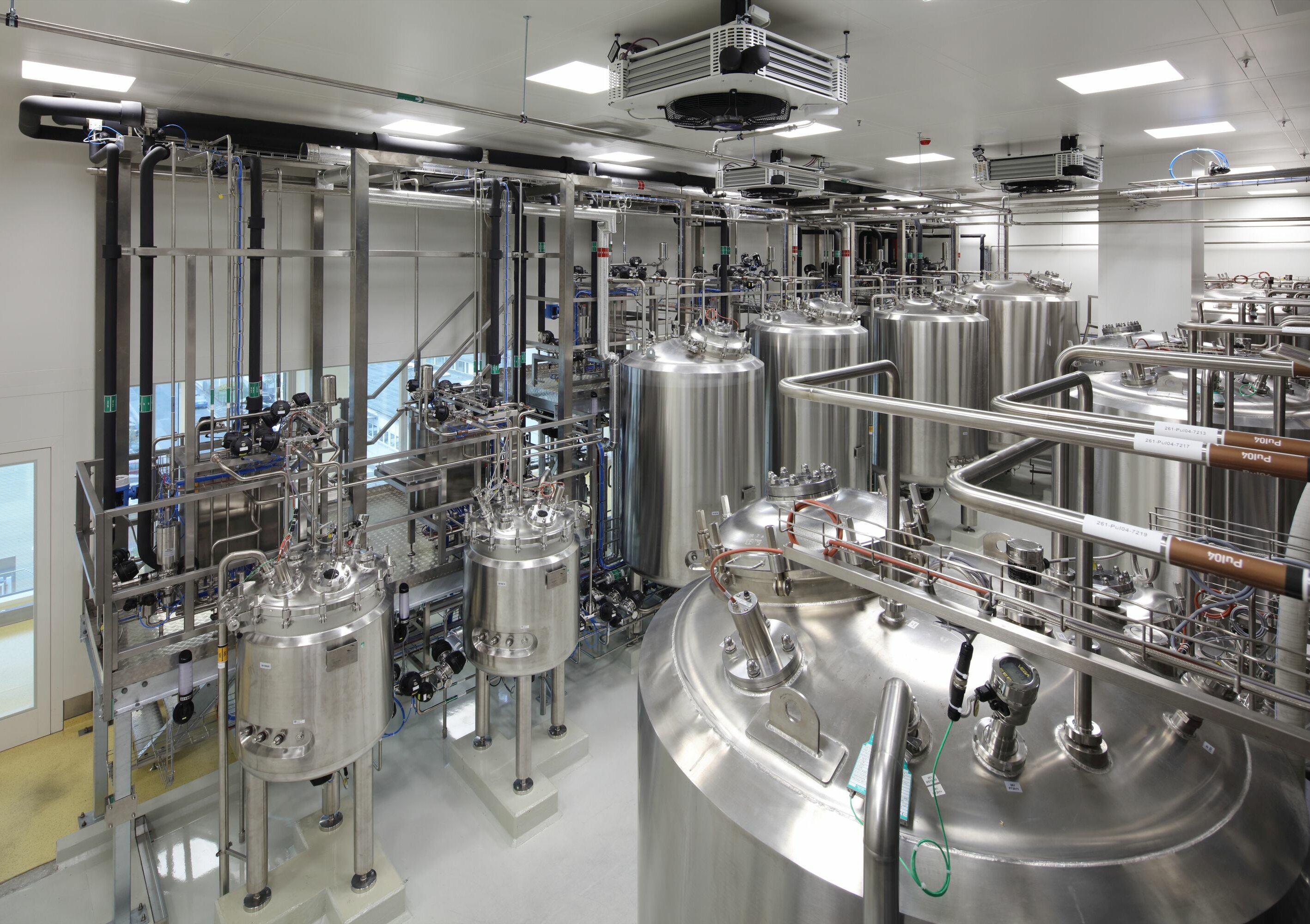 Defrosting area incl. cutting area
Plasma fractionation
Albumin
Fibrinogen
IgG / IgM
Support area (cleaning, autoclaving)
Harbolite / Weighing
Plasma (cold) storage
Ultra pure media (AP, WFI, ultra pure steam)
Preparation of CIP solutions
Preparation of buffer solutions
Heating / cooling media, heating steam, CHP units
Compressed air
Tank farm incl. tanking (solvent, acid, lye, heating oil)
Waste water collection & treatment, process exhaust air
Decentralized processing for highly complex projects
During the peak phase of the project, the core team from VTU Engineering consisted of around 50 employees, while the entire general planning team consisted of around 180 employees. More than 100 companies were involved in planning and executing the project, all coordinated by VTU Engineering. VTU Engineering covers general project management, process engineering and GMP compliance. The other trades are taken over by established partners who were already closely involved in the bidding and contract process. Over the past fifteen years, VTU has developed, continuously adapted and perfected this type of decentralized project management across several of its own locations, combined with its partner companies' locations. Clear information paths, structured and efficient meeting management, state-of-the-art communication software and document management make it possible to even keep highly complex projects like this one under control and lead them efficiently to success.
The scale of the "Biotest Next Level" project:
Approx. 1,000 process apparatus and package units
160 t steel construction and brackets
35 km of pipes, approx. 41,000 pipe components and around 3,000 manual valves (higher-level piping, i.e. routes without systems)
241 P&IDs
Production building:
Dimension: 60 x 100 m (soccer pitch: 68 x 105 m) = 6,000 m²
Building height: 32 m from ground level
Gross floor area (GFA): 31,750 m² (= 4.5 soccer pitches)
28 ventilation units with a total of 600,000 m³ air/hour
Approx. 40,000 m² of ventilation ducts and approx. 11,000 m of ventilation pipes
Energy center:
Dimension: 86 x 18 x 7.5 m
Gross floor area (GFA): approx. 4,000 m²